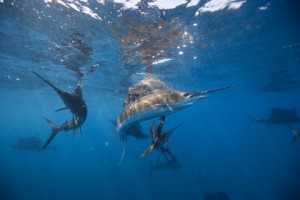 Winter is just around the corner and the fishing is heating up in Puerto Vallarta Mexico.
During the months of September through December we have some of the best fishing in the world.
In the month of October 15 the rains stop and the fishing really heats up. The water temp will still be holding around 80 deg for a few more months before it's starts to go down slightly. During these months we catch in the bay bonita,yellowtail,tuna,mahi mahi and even sailfish. This is because the water temperature reaches about 80 deg. The offshore fishing is some of the best in the world. The huge tuna are here along with sailfish,marlin,wahoo and mahi mahi.
For those who are serious about catching the big one such as marlin and tuna Fall is one of the best times to be fishing the outside of the bay. With the water temperature around 80 deg. There are schools of bonitos everywhere and the marlin and tuna follow them here to Puerto Vallarta. Just out past the Maritas,Corbetena and El Banco are just a few of the places we fish for the big ones. Plan on a 10 to 12 hr day for the marlin and tuna trips. As you can see winter time fishing in Puerto Vallarta can not be beat so come on down and wet and line and have a cold one.
The last few days have been great for marlin,tuna,sailfish and mahi mahi.
Tight lines
Capt Pete
www.travelvallarta.com
Toll free from U.S. 1 877 301 2058
Off local 22 10920
Cell 322 29 46240
ps the whales are showing up as well