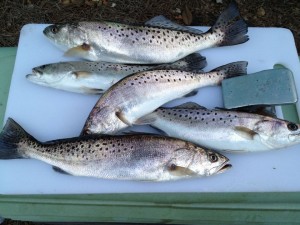 Fishing report for Savannah Ga Fishing report
So far the fall/winter spotted sea trout bite has been great with fishermen getting the chance to catch them in style. The best bait is going to be live shrimp and the best news is once you get the bite going you can switch to artificial patterns. My favorite artificial is the DOA combo with the colors of New Penny or Copper Crush. This keeps the cost down because you can easily go through a pint of shrimp within two hours. With the water temperatures around 60 degrees most inshore fishing has moved to mouths of feeder creeks or the rivers. Another technique that may "older locals" use is slow trolling. Yes, slow trolling for inshore fishing for trout. I couldn't believe it for myself until I tried it, what is good about trolling is once you start to get bites you want to anchor and fish that spot. What works best for trolling is the "candy corn paddle tails"with a red jig head.
I want to thank you for reading my fishing report, I know most of you are from Florida which is the greatest state in America because that is my home state. Unfortunately I am in Savannah Ga because I serve in the Army's most elite unit and that is 1st Ranger Battalion. So for me what I was used to in Florida has changed dramatically here in Savannah because of the tide changes here are so drastic. We get usually 7-8 ft tide change, which makes it a little more difficult to fish because the water is not at clear and beautiful as Florida waters but this gives you the opportunity to master fishing on a different level. Hope everyone has a great week of fishing as I will, and stay tuned for my next weeks fishing report, Tight Lines.
Adventuring the Outdoors
http://adventuringtheoutdoors.blogspot.com/