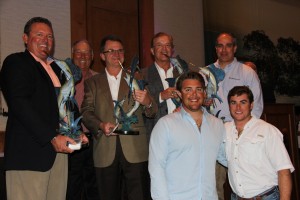 Ken Reda and Terry Moore Sail Off with Top Honors at Reef Cup 2013
Key Largo, FL (January 25, 2013) – Since Reef Cup's inception in 1986, Key Largo angler Ken Reda has cast his lines at the prestigious sailfish tournament.  2013 proved to be a golden year for Reda as he and his fellow anglers aboard the Hatterascal took top Overall Boat, top Overall Angler, top Captain and Mate, and third Overall Angler.  The team aboard the Hatterascal, a 2012 Hatteras 63' GT owned by the Hatteras Yacht Company, scored six sailfish to secure the win during the tournament; Reda hooked 3 of the team's six sails to take top Overall Angler, while Tyler Richie landed the other three to take third in the Overall Angler division.  The Hatterascal was piloted by veteran captain Terry Moore, and other members of the team included Hatteras factory rep Jeff Donahue, first mate Tom Holder, and anglers were Randy Smalley and Tim Brammer.
"Because of the unseasonably warm weather, it was a slower than usual Reef Cup," said Reda.  "We landed 3 sails on our first day and took the second as our lay day.  On day three we caught our fourth sail, then landed the fifth around 9:30 in the morning on day four.  With 45 minutes to go Richie hooked our sixth fish.  It was anyone's race right up until the end, and we never felt secure in our lead until it was over."  The Hatterascal edged out Captain Chris White aboard Sweet Release with five fish and Captain Peter Ryon aboard Anthracite with four.  Reda, the Director of Sales at MarineMax in Ocean Reef Club, has a long history with the Reef Cup as he has fished at every tournament since its inception and currently sits on the tournament committee.  Reda, no stranger to the podium at Reef Cup, took top Overall Boat in 1987 and was runner up in 1988.
The 28th Annual Reef Cup Invitational Sailfish Tournament ran from January 15-19, 2013 out of Ocean Reef Club in Key Largo, Florida.  The prestigious sailfish tournament drew a fleet of 60 boats and 299 anglers, all battling it out to bring in the fish.  The Reef Cup is a tournament qualifier for the ORC Sailfish Champions of the Year and for the IGFA World Sailfish Championships in Mexico.
"We will continue to campaign the Hatterascal in 2013," said Reda.  "Our future plans include the 2013 Bahamas Billfish Championships(BBC) and a few other tournaments held here at Ocean Reef Club.  The Hatteras Yacht Company is offering the Hatterascal for sale through MarineMax at the Ocean Reef Club, and we hope to add more wins to her resume.  I am very pleased to start off the year with a top angler, top boat, and top captain title."
For more information on MarineMax Ocean Reef, visit their website at www.marinemaxoceanreef.com, call 305 367 3969, or visit their Facebook at www.facebook.com/marinemaxoceanreefclub. 
-30-
Photo:  Back row from left to right: Ken Reda, Terry Moore, Tim Brammer, Randy Smalley, and Jeff Donahue.  Front row from left to right: Tommy Holder and Tyler Richie.  The team of the Hatterascal took top honors at Reef Cup 2013. (Photo courtesy of Ocean Reef Club Event Staff)